Links
If you like The King Snake.co.uk, then please visit our other websites
Recommended Reading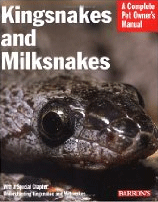 Kingsnakes and Milksnakes - A Complete Pet Owners Manual by R.D. Bartlett & Ronald G. Markel
Advises on the care and maintenance of Kingsnakes and Milksnakes. Their bright colours make these snakes popular among hobbyists, and their placid temperaments ensure that they are easy to care for. Here is complete information on feeding, caging, breeding, protection against parasites, and general health care.
Click to find it on Amazon.co.uk
---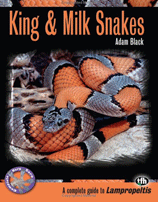 King & Milk Snakes by Adam Black
This guide is a complete care manual for the interesting and colourful kingsnakes and milk snakes. It contains information on all the commonly kept species and subspecies, including California kingsnakes, grey-banded kingsnakes, Sinaloan milk snakes and Honduran milk snakes, along with information on some rarer types, such as California mountain kingsnakes. "King & Milk Snakes" will help you keep your snake healthy for all of his life.
Click to find it on Amazon.co.uk
Online Reptile Accessory Shops
---

 www.petsparade.co.uk/reptiles
Online UK reptile accessories supplier, selling heating mats/bulbs, substrate, water bowls, Vivarium furniture and more
---